Dudecember Discounts at our Printfection Store:
Save $3 on any order (minimum order $15)
Coupon code: DRESSEDLIKETHAT.  (Expires Dec 31)
Save $6 on orders of $35 or more
Coupon code: DRESSEDLIKETHAT35  (Expires Dec 31)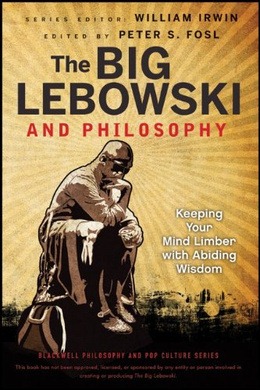 Win a Free Book!
Last year we had a great contest where we gave away copies of Adam Bertocci's phenomenal book, Two Gentlemen of Lebowski to lucky entrants who answered our question: "What do you dig about The Big Lebowski?" We posted all the answers (anonymously) here. Good times.
Now we're going to do the same with The Big Lebowski and Philosophy (edited by Peter S. Fosl). It's a far out collection of deep essays about the film by smarter fellers than ourselves!
Only this time, the question is:
"What have you learned from The Big Lebowski?"
Fifty people who answer this important question will receive free copies of this deep collection of essays about The Dude and his compeers.
Entries will also be shown on the site in the same way, but they'll be anonymous, so you can be totally honest.
Winners will be contacted by June 25, so this contest won't last long. If you want a free book, please make sure to have a think, limber up your mind and crack this case!


Sorry, but this contest has expired. Thanks anyway! If you'd like to purchase the book you can do so at Amazon.com.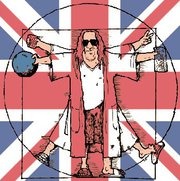 The Dudeism documentary is in full swing! We just had a great time filming at Lebowskifest, and now we're headed to the UK. If you're in the neighborhood, we want you to be a part of it! From August 6th to August 12th we'll be traveling around York, Edinburgh and London. Come visit us and get on camera as we spread the dude word in England and Scotland!
All sorts of cool stuff is planned, from Dudestock, the world's first Dudeist music festival on Aug 6, to panel discussions with local experts at the Idler Academy on Aug 10 (save 25% on tickets with the coupon code "duh") to flashmobs and group weddings at the Edinburgh fringe fest on Aug 8 (want to get married by The Dudely Lama on camera? Let us know! A far out and dudely time will be had by all. For a full rundown of our activities and the dates and times, you can visit the official Facebook event page! You can email Thomas the filmmaker at moc.liamgnull@mlifmsiedud directly.
Special promos:
To win some cool Lebowski stuff at Dudestock, enter this contest!
To save 25% off tickets to the Idler Academy Event, type in the code "duh" when you check out!
We might also attend the NY Lebowskifest! If you can't make it to the UK, we hope to meet you there!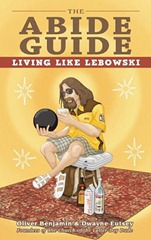 The Abide Guide is officially released on August 16 HAS BEEN RELEASED EARLY! Our deep and diggable Dudeist "Self Help" book will be published this August is already published in the US and will be soon in the UK. At the moment, online retailers like Amazon.com and Barnes and Noble are offering it at almost half off the cover price! They assure us that this is because it's selling so well. But who knows how long such a deep discount will last. Read more about The Abide Guide in this article at the Huffington Post by Cathleen Falsani. Also visit our official page and Facebook page.
Discounts on our tee shirts have been extended. Extended for August 2011 save $3 on any order at our Printfection store (minimum order $15) – tee shirts, sweatshirts, etc. Use the coupon code DRESSEDLIKETHAT. Also – save $6 on orders of $35 or more (coupon code: DRESSEDLIKETHAT35) and $10 on orders of $50 or more (coupon code: DRESSEDLIKETHAT50). tees.dudeism.com
Want to relax a bit? Take the Take it Easy Challenge.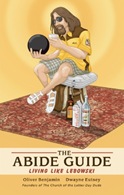 Howdy to all the Dudeist Priests of Dudeism.com,
Just want to let you know some of the far out new stuff going on at Dudeism:
The Abide Guide: Our deep and diggable Dudeist "Self Help" book will be published this August in the US and the UK. You can preorder now. Read more about it in this article.
Dudeism Documentary: Want to be in a movie about Dudeism? We are going to be the subject of a full on feature length documentary! The Dudely Lama Oliver Benjamin is going to travel around the world, meet up with a bunch of the 130,000-strong Dudeist priests. Come gather with us at events, festivals, presentations, bowling and what-have-you. Get on camera and immortalize yourself as an early apostle of the most easygoing religion on earth. Read this article to find out more. Note: we especially need help and participants at the Edinburgh Fringe festival this August 8. We want to organize a mob of robe-wearing Dudeist Priests!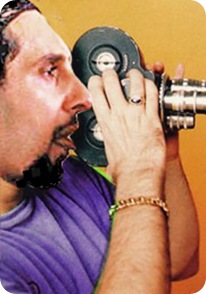 Anyone who wants to be a part of Dudeist cinematic history, please contact the director: Thomas Fazi, at moc.liamgnull@mlifmsiedud
Events we'll be attending so far:
1) Lebowskifest in Louisville, KY July 14-16.
2) Dudestock in York, UK, August 6.
3) The Edinburgh Fringe Festival, August 8.
4) The Idler Academy in London, UK, August 10.
5) In Spring/Summer 2012 we're going to be traveling around the US. Got a cool idea for an event or a meetup? Let Thomas know: moc.liamgnull@mlifmsiedud
Even if you don't want to be in the documentary, come meet up with other Dudeists! The Dudely Lama and other priests will be hanging out, getting to know each other.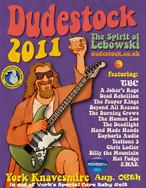 Dudestock: One of the stops on the tour, the world's first Dudeist music festival will now be taking place on August 6 in York, UK. For more info visit www.dudestock.co.uk. Note: there will also be a smaller pre-Dudestock event on June 18.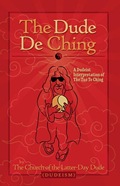 The Dude De Ching – now cheaper: We've reduced the price of our Holy Book, The Dude De Ching. Now it's only $5.99 for the print version and 99c for the ebook. Find out more. All proceeds still go to our Kiva charity fund.
Discounted Tee Shirts and more: For the month of June 2011, save $3 on any order at our Printfection store (minimum order $15) – tee shirts, sweatshirts,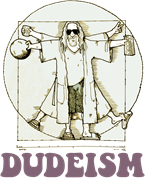 etc. Use the coupon code DRESSEDLIKETHAT. Also – save $6 on orders of $35 or more (coupon code: DRESSEDLIKETHAT35) and $10 on orders of $50 or more (coupon code: DRESSEDLIKETHAT50). www.tees.dudeism.com
Any questions or ideas? Just want to say hi? Please contact us at www.dudeism.com/contact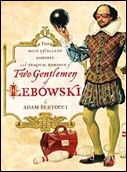 Hey Dudes!
Would you like a free copy of Adam Bertocci's far out Shakespearean reworking of Two Gentlemen of Lebowski? Enter our giveaway and you could win one!
We're doing this to help celebrate our annual high holiday, The Day of the Dude. It's coming up soon – Sunday, March 6. Just take it easy, mankind!
Some other news you might want to become privy to: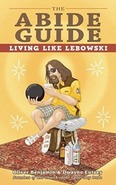 1. Our new Dudeist self-help book The Abide Guide will be published in the spring by Ulysses Press and is already available for pre-order. It's a team effort from Dudely Lama Oliver Benjamin and Arch Dudeship Dwayne Eutsey, and it's going to be far out indeed.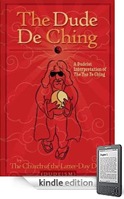 2. Our highly-commended holy book, The Dude De Ching is now available as a downloadable Kindle ebook. Don't have an Amazon Kindle? You can still read it on your phone, Blackberry, iPad, Mac, PC and more with the free Kindle application. All profits still go to our Dudeism Kiva Lending Fund. Or get a printed copy instead.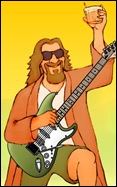 3. UK residents take note: There's going to be a Dudeist music festival in York on June 18. It's called Dudestock, and it'll be raising money for charity. They're also running a campaign to get Dudeism recognized as an official religion in the UK (or at least, on the annual census). Find out more from this BBC broadcast.
4. If you're planning to celebrate The Day of the Dude on March 6, please send us photos of you and your compeers takin' er easy, or going bowling, or what-have-you, so we can post it afterwards at The Dudespaper.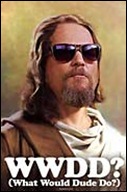 5. New shirts have come to light! Why not quickly pick up a Day of the Dude 2011 tee shirt for this year's festivities? It will help us feed the monkey. Thankee.

6. Bloggers and journalists–do you want to draw a flood of attention to your writing, or give a great pitch to your editor? Why not write about Dudeism? Whenever someone writes about us it draws massive traffic. For instance: this awesome article at CNN received 6000 Facebook likes, hundreds of times more than any other article in the same section. Smaller blogs who write about us also receive a ton of attention and a flood of Facebook likes. Thanks for helping us spread the Dude word.
7. If you want to interact with other Dudeists, please visit our Facebook Page, our forum, and our official publication, The Dudespaper. We plan to have a Dudeist social network (like Facebook, but more mellow) set up soon as well.
8. We now have over 100,000 ordained Dudeist Priests worldwide. Far out.
Well that's it for now. But a lot of cool new stuff is coming up soon after all this!
Have a happy Day of the Dude, dudes. We know that you will.
Abidingly,
Rev. Oliver Benjamin
The Dudely Lama of The Church of the Latter-Day Dude