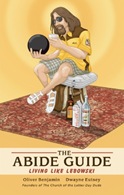 Howdy to all the Dudeist Priests of Dudeism.com,
Just want to let you know some of the far out new stuff going on at Dudeism:
The Abide Guide: Our deep and diggable Dudeist "Self Help" book will be published this August in the US and the UK. You can preorder now. Read more about it in this article.
Dudeism Documentary: Want to be in a movie about Dudeism? We are going to be the subject of a full on feature length documentary! The Dudely Lama Oliver Benjamin is going to travel around the world, meet up with a bunch of the 130,000-strong Dudeist priests. Come gather with us at events, festivals, presentations, bowling and what-have-you. Get on camera and immortalize yourself as an early apostle of the most easygoing religion on earth. Read this article to find out more. Note: we especially need help and participants at the Edinburgh Fringe festival this August 8. We want to organize a mob of robe-wearing Dudeist Priests!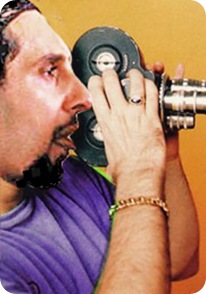 Anyone who wants to be a part of Dudeist cinematic history, please contact the director: Thomas Fazi, at dudeismfilm@gmail.com
Events we'll be attending so far:
1) Lebowskifest in Louisville, KY July 14-16.
2) Dudestock in York, UK, August 6.
3) The Edinburgh Fringe Festival, August 8.
4) The Idler Academy in London, UK, August 10.
5) In Spring/Summer 2012 we're going to be traveling around the US. Got a cool idea for an event or a meetup? Let Thomas know: dudeismfilm@gmail.com
Even if you don't want to be in the documentary, come meet up with other Dudeists! The Dudely Lama and other priests will be hanging out, getting to know each other.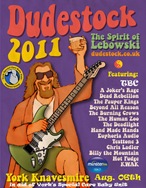 Dudestock: One of the stops on the tour, the world's first Dudeist music festival will now be taking place on August 6 in York, UK. For more info visit www.dudestock.co.uk. Note: there will also be a smaller pre-Dudestock event on June 18.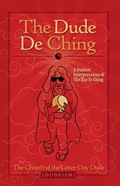 The Dude De Ching – now cheaper: We've reduced the price of our Holy Book, The Dude De Ching. Now it's only $5.99 for the print version and 99c for the ebook. Find out more. All proceeds still go to our Kiva charity fund.
Discounted Tee Shirts and more: For the month of June 2011, save $3 on any order at our Printfection store (minimum order $15) – tee shirts, sweatshirts,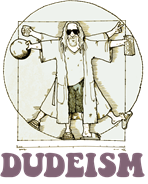 etc. Use the coupon code DRESSEDLIKETHAT. Also – save $6 on orders of $35 or more (coupon code: DRESSEDLIKETHAT35) and $10 on orders of $50 or more (coupon code: DRESSEDLIKETHAT50). www.tees.dudeism.com
Any questions or ideas? Just want to say hi? Please contact us at www.dudeism.com/contact