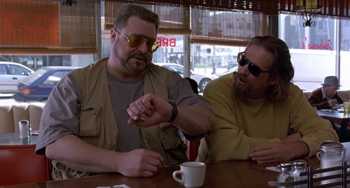 Walter Sobchak:
Now so far, we have what appears to me to be a series of victimless crimes.
The Dude:
What about the toe?
Walter Sobchak:
Forget about the fucking toe!
Coffee Shop Waitress: Excuse me, sir. Could you please keep your voices down? This is a family restaurant.
Walter Sobchak:
Oh please, dear? For your information, the Supreme Court has roundly rejected prior restraint.