Want to make a few bones or clams or whatever you call them?
Want to slow your career down a bit, and share your love of Dudeism?
Let's pool our resources! Compeers, you know?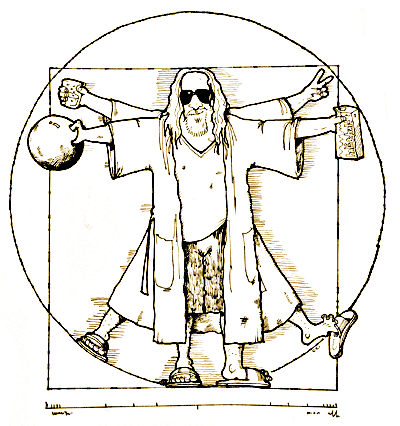 If you want to make Dudeist products and sell them or start Dudeist yoga studios or what have you, why not contact us with a proposal and we'll see if we dig your style. There will be no bill — we only ask that you point people to dudeism.com. You can make a few bones or clams or whatever you call them, and we can help get the Dude word out. We'll even help promote your projects — and maybe even help you design them!
We consider this good karman, from the Hindu/Buddhist concept of karma. It's a way of encouraging limber thinking and free flow of positive Dudeist energy. And not remaining stuck in your blue Volkswagen bug — which is bad karman.
"Get out of the fucking karman!"

"Dude, where is your karman?"

"I kill your fucking karman!"

–From The Book of the Dude, New Bastardized Standard Version
Bad karman is the drive that keeps us driving around isolated from each other.
Good karman is the vehicle that gently brings us back home, sweet home.