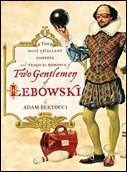 Hey Dudes!
Would you like a free copy of Adam Bertocci's far out Shakespearean reworking of Two Gentlemen of Lebowski? Enter our giveaway and you could win one!
We're doing this to help celebrate our annual high holiday, The Day of the Dude. It's coming up soon – Sunday, March 6. Just take it easy, mankind!
Some other news you might want to become privy to: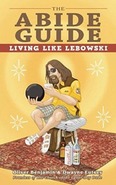 1. Our new Dudeist self-help book The Abide Guide will be published in the spring by Ulysses Press and is already available for pre-order. It's a team effort from Dudely Lama Oliver Benjamin and Arch Dudeship Dwayne Eutsey, and it's going to be far out indeed.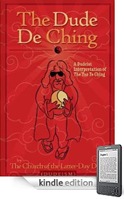 2. Our highly-commended holy book, The Dude De Ching is now available as a downloadable Kindle ebook. Don't have an Amazon Kindle? You can still read it on your phone, Blackberry, iPad, Mac, PC and more with the free Kindle application. All profits still go to our Dudeism Kiva Lending Fund. Or get a printed copy instead.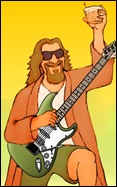 3. UK residents take note: There's going to be a Dudeist music festival in York on June 18. It's called Dudestock, and it'll be raising money for charity. They're also running a campaign to get Dudeism recognized as an official religion in the UK (or at least, on the annual census). Find out more from this BBC broadcast.
4. If you're planning to celebrate The Day of the Dude on March 6, please send us photos of you and your compeers takin' er easy, or going bowling, or what-have-you, so we can post it afterwards at The Dudespaper.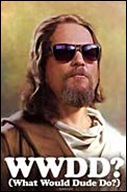 5. New shirts have come to light! Why not quickly pick up a Day of the Dude 2011 tee shirt for this year's festivities? It will help us feed the monkey. Thankee.

6. Bloggers and journalists–do you want to draw a flood of attention to your writing, or give a great pitch to your editor? Why not write about Dudeism? Whenever someone writes about us it draws massive traffic. For instance: this awesome article at CNN received 6000 Facebook likes, hundreds of times more than any other article in the same section. Smaller blogs who write about us also receive a ton of attention and a flood of Facebook likes. Thanks for helping us spread the Dude word.
7. If you want to interact with other Dudeists, please visit our Facebook Page, our forum, and our official publication, The Dudespaper. We plan to have a Dudeist social network (like Facebook, but more mellow) set up soon as well.
8. We now have over 100,000 ordained Dudeist Priests worldwide. Far out.
Well that's it for now. But a lot of cool new stuff is coming up soon after all this!
Have a happy Day of the Dude, dudes. We know that you will.
Abidingly,
Rev. Oliver Benjamin
The Dudely Lama of The Church of the Latter-Day Dude