Hello to all the ordained Dudeist Priests of Dudeism!
A lot of far out new stuff is going on at Dudeism (The Church of the Latter-Day Dude) and we're happy to tell you about it all: Free giveaways! Discount coupons for Dudeism gear! Awesome achievements! Dudely diversions!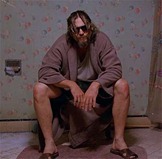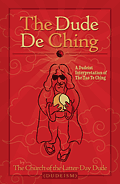 1) Another Dude De Ching Book Giveaway – Just like back in February, we're teaming up with TheToiletPaper.com to give out free copies of our holy book to our Dudeist Priests. Just sign up at here. You can also buy the book right away if you like here. See more about the giveaway here.
2) The Lebowski Last Supper Giveaway – The famous Lebowski Last Supper painting has been an internet sensation and you can win a free copy! The top ten lenders to our Kiva.org lending team (see #3 below) will receive a beautifully crafted wall-sized print. See www.lebowskipainting.com. Find out more about the contest here.

3) The Little Lebowski Urban Achievers Fund – We've started a lending team at the global charity kiva.org. We've already loaned more than $1000 from sales of the Dude De Ching. Join our team. and help folks who are having a hard time. There's almost no risk because 99% of the loans are paid back. The biggest donators over the next month will win copies of the Lebowski Last Supper (see #2 above).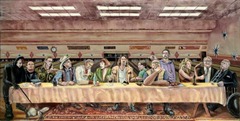 4) The Lebowski Last Supper Dudeism Discount – Those who don't win the contest can still get a special discount on the Lebowski Last Supper painting by using the following exclusive code when checking out: DudenheimPosterSpecial072110 (case sensitive).
5) New Tee Shirts and discounts! – We're collecting all the best Lebowski-inspired art out there at the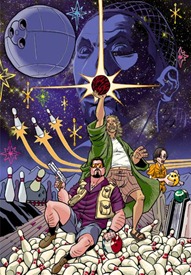 Dudenheim and have selected a few of our favorites to put on tee shirts at our new Dudenheim Museum Store. There's a mashup of The Big Lebowski and Star Wars, The Lebowski Last Supper, and more amazing creations. These make far out gifts! Find out more here. There are also a ton of new designs in our original shop. Buy at either shop with the coupon code DIGYOURSTYLE2010 on any order $15 or greater and save $3 on your order, or DIGMYSTYLE2010 for $6 off any order $35 or greater.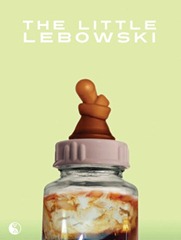 6) The Little Lebowski – A sequel to The Big Lebowski, written by a couple of our Dudeist Priests. Currently in development on our forum – give them your two cents (or bones or clams or what have you) and help extend the Lebowski universe. Find out more here.
7) The Official Dudeism Facebook Page – We just started it and it's growing rapidly. A great place to keep up with the Dude universe and interact with other Dudeists. Check it out here.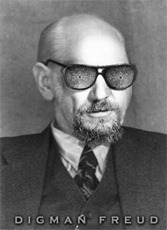 8) Find out when you were ordained – wondering when you ordained as a Dudeist Priest? Now you can find out immediately using our new online form. It'll email you the information automatically. Find it here.
9) Fun and Games – Fabulous new stuff, including a Big Lebowski Quote Generator, an automated Dudeist psychotherapist (Doctor Dude) and a Dudeism Church Sign Generator – make a Church of the Latter-Day Dude Church Sign that looks totally real and says whatever you want. Find out more here.
We hope you dig our style. If you have any questions, please contact us at center@dudeism.com
Abidingly,
The Dudely Lama
The Church of the Latter-Day Dude