Awesome Insights of Deep Dudes from Lao Tzu to Lebowski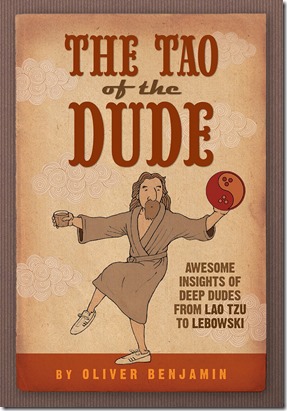 Written, illustrated and edited by Oliver Benjamin, the founder of Dudeism, The Tao of the Dude is an essential resource for practicing Dudeists to keep their minds limber and avoid uptight thinking.
Each chapter features thought-provoking introductory essays which discuss how each topic is realized in The Big Lebowski and in other works of art and philosophy, followed by a carefully edited collection of passages and quotes culled from a wide variety of sources throughout history.
The Tao of the Dude addresses various subjects near and dear to the Dudeist heart, such as conflict ("This Aggression Will Not Stand"), leisure ("Just Take it Easy Man") and tolerance ("That's Just, Like, Your Opinion, Man"). Featuring luminaries such as Bertrand Russell, Lao Tzu, Ralph Waldo Emerson, Kurt Vonnegut and many many more, this manifesto makes it plain that Dudeism is a creed that has existed down through the generations, across the sands of time.
Get it from Amazon – also available on international Amazon sites like amazon.co.uk, amazon.de, amazon.fr, etc.
Chapters include:

THIS AGGRESSION WILL NOT STAND
Conflict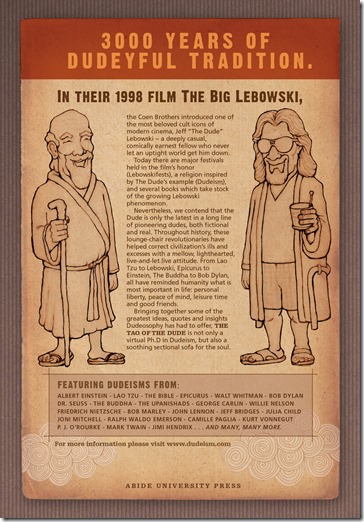 A WORTHY FUCKIN' ADVERSARY
War and Politics
OUR BASIC FREEDOMS
Liberty and Lifestyle
JUST TAKE IT EASY, MAN
Leisure & Relaxation
GO FIND A CASH MACHINE
Money and Materialism
ARE YOU EMPLOYED, SIR?
Work
KEEP MY MIND LIMBER
Intellect and Uptight Thinking
A LOT OF INS AND OUTS
Open-mindedness and Creativity
THAT'S JUST, LIKE, UH, YOUR OPINION, MAN
Pluralism and Tolerance
CAN'T BE WORRIED ABOUT THAT SHIT
Peace of Mind
AND PROUD WE ARE OF ALL OF THEM
Ambition and Achievement
THE FUCKING EAGLES, MAN
The United States of America
WHAT'S A HEE-RO?
Heroism
SOME KIND OF AN EASTERN THING
Zen Dudeism
A WISER FELLER THAN MYSELF ONCE SAID
Knowledge and Education
NEW SHIT HAS COME TO LIGHT
Progress
WHAT IN GOD'S HOLY NAME ARE YOU BLATHERING ABOUT?
Religion
CAREFUL, MAN, THERE'S A BEVERAGE HERE!
Alcohol
A PRETTY STRICT, UH, DRUG UH, REGIMEN
Drugs
STRONGLY VAGINAL. …AND A PAIR OF TESTICLES
The Sexes
THIS AFFECTS ALL OF US, DUDE
Idealism and Morality
THE PREFERRED NOMENCLATURE
Language and Conversation
WHAT THE FUCK ARE YOU TALKING ABOUT?
The "F" word
THERE'S NOT A LITERAL CONNECTION
Art, Literature & Film
THE WHOLE DURNED HUMAN COMEDY
Funny Stuff
THE ROYAL WE
Friendship & Community
REALLY TIED THE ROOM TOGETHER
The Dudeiverse
FURTHER ON DOWN THE TRAIL
Dudevolution
Want to contribute quote ideas for a future edition of the book? Please contact us at www.dudeism.com/contact