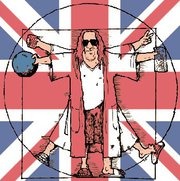 The Dudeism documentary is in full swing! We just had a great time filming at Lebowskifest, and now we're headed to the UK. If you're in the neighborhood, we want you to be a part of it! From August 6th to August 12th we'll be traveling around York, Edinburgh and London. Come visit us and get on camera as we spread the dude word in England and Scotland!
All sorts of cool stuff is planned, from Dudestock, the world's first Dudeist music festival on Aug 6, to panel discussions with local experts at the Idler Academy on Aug 10 (save 25% on tickets with the coupon code "duh") to flashmobs and group weddings at the Edinburgh fringe fest on Aug 8 (want to get married by The Dudely Lama on camera? Let us know! A far out and dudely time will be had by all. For a full rundown of our activities and the dates and times, you can visit the official Facebook event page! You can email Thomas the filmmaker at dudeismfilm@gmail.com directly.
Special promos:
To win some cool Lebowski stuff at Dudestock, enter this contest!
To save 25% off tickets to the Idler Academy Event, type in the code "duh" when you check out!
We might also attend the NY Lebowskifest! If you can't make it to the UK, we hope to meet you there!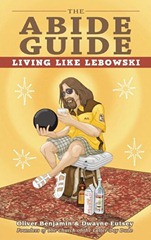 The Abide Guide is officially released on August 16 HAS BEEN RELEASED EARLY! Our deep and diggable Dudeist "Self Help" book will be published this August is already published in the US and will be soon in the UK. At the moment, online retailers like Amazon.com and Barnes and Noble are offering it at almost half off the cover price! They assure us that this is because it's selling so well. But who knows how long such a deep discount will last. Read more about The Abide Guide in this article at the Huffington Post by Cathleen Falsani. Also visit our official page and Facebook page.
Discounts on our tee shirts have been extended. Extended for August 2011 save $3 on any order at our Printfection store (minimum order $15) – tee shirts, sweatshirts, etc. Use the coupon code DRESSEDLIKETHAT. Also – save $6 on orders of $35 or more (coupon code: DRESSEDLIKETHAT35) and $10 on orders of $50 or more (coupon code: DRESSEDLIKETHAT50). tees.dudeism.com
Want to relax a bit? Take the Take it Easy Challenge.