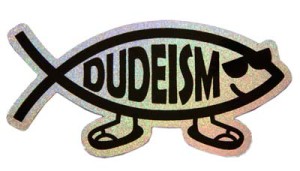 We have several groups and pages for you to participate in to find other Dudeists.
Our main Dudeism page is https://facebook.com/Dudeism.
Our main Facebook group is https://facebook.com/groups/duderino. Note that this group is mostly for stuff about Dudeism. Not really a place just to post Lebowski memes. Also, no political stuff is allowed. Read the rules at the top of the page in the pinned post.
The Dudely Lama's new blog page is here
Other groups
Facebook:
The Big Lebowski (for more Lebowski-oriented stuff): https://www.facebook.com/groups/Lebowskifans
The Dudeism Lounge (pretty much anything goes): https://facebook.com/groups/DudeismLounge
The Church of the Latter-Day Dude (a smaller and more permissive group): https://www.facebook.com/groups/Dudeist/
Abide University, our online center for higher learning: https://www.facebook.com/groups/AbideUniversity
Dudeocracy (for political stuff): https://www.facebook.com/groups/dudeocracy/
Dude Therapy (a new group for people to help each other keep their heads up in tough times): facebook.com/groups/DudeTherapy/
Twitter: https://twitter.com/dudeisms
Reddit: http://www.reddit.com/r/Dudeism/
Discord: https://discord.gg/BFZvAU4
Instagram: https://www.instagram.com/dudeism.co/
Linked in page: https://www.linkedin.com/company/dudeism/
Linked in group: https://www.linkedin.com/groups/13993573/
The Dudeism Social Network: Check out our new Dudeism Social Network at Mighty Networks. No ads, all ours! It doesn't Zucc! :) – https://dudeism.mn.co/