Spread the Dude word with our far-out stuff.
We've got ordination certificates, I.D. cards, stickers, patches, tee shirts and a lot more.

Big Ordination Kit –
$46.00

$35.00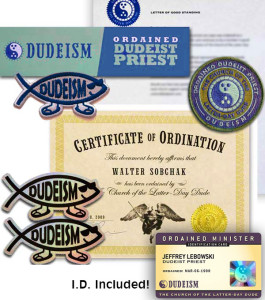 Your answer for everything
Contains: 1 Dudeist Priest I.D. Card, 1 Ordination certificate, 1 Ordained Dudeist Priest Patch, 1 Dudefish patch, 2 Dudefish stickers, 1 Bumper sticker and 1 Letter of Good Standing. Purchased individually all this would cost $46.00, so this kit saves you over 30%.

Ordination Kit –
$31.00

$22.00

Contains: 1 Ordination certificate, 1 Ordained Dudeist Priest Patch, 1 Dudefish patch, 2 Dudefish stickers, 1 Bumper sticker and 1 Letter of Good Standing. Purchased individually all this would cost $31.00, so this kit saves you almost 30%.

Ordination Certificate – $10.00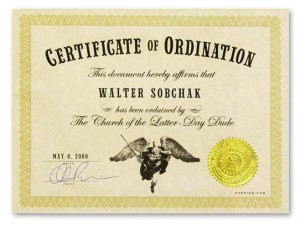 It really ties the room together
Printed on antiqued parchment paper with an impressive embossed gold seal, this personalized and easily-frameable certificate shows everyone that you're an ordained Dudeist Priest. It makes a valued addition to your private residence, office, or what-have-you. Size: 8.5 x 11 inches

Dudeist Priest I.D. Card – $15.00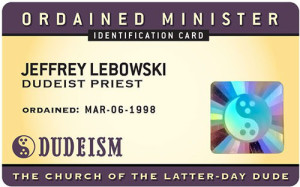 Who are you?
Want to be able to prove to people that you're a Dudeist Priest at Dudeism but don't want to carry your ordination certificate around with you? Order one of our credit-card-like IDs and you can flip out your credentials on the spot. They even have holograms with the Dudeism logo on them.
Please double check your name and date of ordination carefully! Because of the labor-intensive nature of manufacture we can't issue re-dos if you make a mistake.

Become a doctor of Dudeism or several other fields
We've finally launched Abide University! It's a laid-back online learning center for followers and fans of Dudeism. You can get a free Ph.D or other degree in several different fields of study, and you can also purchase a super-high quality gold-sealed, frameable print here. Click here to go to the Abide University store page.

Dudeism Pendant – $15.00
Wear it around your neck, put it on a keychain, or anywhere you like
Made of highly polished pale brass, this quality mini-medallion is a joy to behold, and even just to hold. Measures just under 1 inch in diameter (24mm)

Ordained Dudeist Priest Patch
The Dudeist seal of iron-on approval
Sanctify any item of clothing, backpack, hat or bag easily with this intricately-embroidered iron-on patch. Affirm your abidefulness to the world.

Dudefish Patch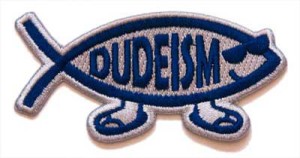 Easily the most easygoing religious emblem around
Every religion has some version of the original fish emblem. Ours is probably the most casual. Flip flops and sunglasses ensure that our Dudefish is never out of his element. Easily iron-on to any textile.

Leboske Logo Patches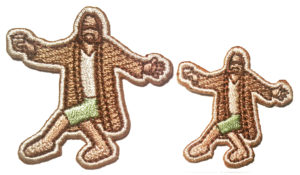 Make all your clothing deeply casual
Have fun with your old polo shirts, caps, bathrobes and more by adding our easy-iron on Dude logo. A representation of the scene where the Dude does T'ai Chi on his rug with a White Russian. More info here.
Dudefish Sticker
Spread the Dude word everywhere you go
Earn the respect and admiration of like-minded folks everywhere with this easy-to-apply sparkly chrome sticker of the beloved, abideful Dudefish. Great for vehicles, briefcases, musical instruments, windows, and just about anything with a flat surface.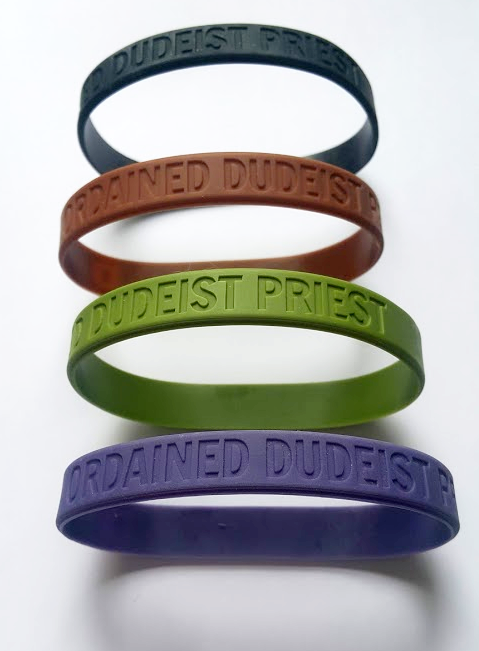 Silicone Dudeism Bracelet
WWDD/Ordained Dudeist Priest
Wear your Dudeism on your sleeve
Comfortable, good-looking silicone bracelets in four different colors announcing your ordination and reminding you "What Would Dude Do? (WWDD)". Get all four colors at a discount.
WWDD on one side, Ordained Dudeist Priest on the other: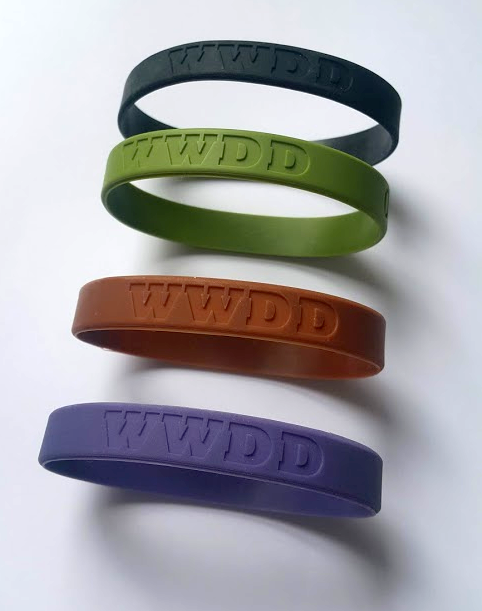 Bumper Sticker
Turn any car into a bona-fide Dudemobile
Show the world you're an officially-ordained Dudeist Priest. Bound to earn you the respect of other drivers and put everyone on the road in a more mellow mood.

Letter of Good Standing – $5.00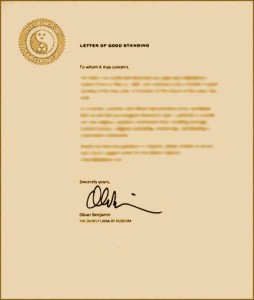 Often required by the local authorities
In order to allow you to perform priestly duties (marriages, etc.), some U.S. State governments require a letter of good standing attesting to the fact that you are in fact an ordained minister.
Personalized, signed and embossed.

Different Dudeist Documents
A bunch of official certificates for Dudeist Priests to provide at weddings and other ceremonies, as gifts, or as services to people. Wedding Certificates, Certificates of Appreciation, Certificates of Love or Friendship, Official Title Certificates, and more. Click here to go to the Other Certificates page.

Donate
Help us spread the Dude word!
If anyone likes what we're doing and wants to donate to the cause, we'd really appreciate it. Thankie.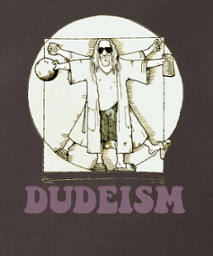 Tee Shirts
Far out swag available via Amazon.com
We've got a great selection of far out designs! Show off your ordination, or just celebrate The Big Lebowski and Dudeism.
See them here.
For non-US customers and those who want bigger sizes:
We've also got a new store we're currently setting up at Galloree.com. Check it out for beach towels and larger size garments in more colors. Soon there will be lots of other products as well. Amazon doesn't currently ship outside of the US, so our international customers should use this store.
UK customers: we're also working on a new Spreadshirt shop. You'll probably save a lot in shipping if you order from this one.

Dudeist Compeers
Cool Dudeist stuff made by our Dudeist Priests
"Am I a Dude?" Dudeist children's book by James Duncan

Suggestions
Help keep our store limber
Got some ideas for stuff you'd like to see us provide? We welcome any and all suggestions, criticisms and praise. Please let us know.