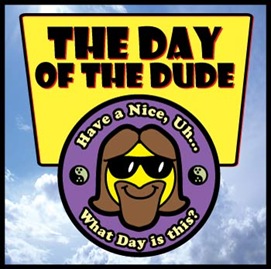 Hey in case you all aren't yet privy to the new shit, let us enlighten you up: This coming Saturday March 6th is our annual "high" holy day, The Day of the Dude. Dudeists all over the world are celebrating by going bowling, drinking white russians, watching The Big Lebowski, or doing absolutely nothing at all. Join them and us!
It's not to late to post an announcement here (see below) and at The Dudespaper (our official publication) about any event you might be having which you'd like other neighborly Dudeists to attend. Invite the local parish to a nearby bowling alley, or gather at a large body of water with a large cooler of oat soda. For more info and ideas, check out the article at The Dudespaper.
Take er easy Dudes. I know that you will.
Events so far:
Lebowskipalooza – Canada's biggest Lebowski event. Originally scheduled for March 3rd, it got towed it to the 6th to coincide with the Day of the Dude!
Winnipeg, Manitoba, Canada
Cathleen Falsani's Dude Abides on the Eve of the Oscars and the Day of the Dude
Laguna Beach, CA
Jam night with Wii Bowling and movie screening with the Dudely Lama at The Jam, on the beach in Thailand.
Koh Phangan, Thailand
Dudeship of Thailand Aiden Tolhurst hosts Bowling Night in Chiang Mai. At Lanna Bowl (inside the northwestern corner of the moat). 8pm.
Chiang Mai, Thailand
Mini Lebowski Festival at Nampa Bowl at 6pm. Screening of the film complete with Caucasians, Oat Sodas and Sarsaparilla to follow. Email Drew and Brandt will fill you in on the details.
Nampa, Idaho
Jackie Treehorn-Style Garden Party including: caucasians on the house, free bbq, whale sounds and what-have-you. There will also be at least one (1) nihilist passed out in the pool at all times. Contact miko.salo@gmail.com for more info.
Limassol, Cyprus
Bowling and Bonfire in Lihue, Hawaii – contact Noah Hess
Lihue Bowling Centre, Rice street, Lihue, Kauai, Hawaii 9766
The Big Lebowski 35mm print at the Harbor Theater. With bathrobe contest! 9:15 PM
Muskegon, Michigan
Bowling and Beverages with Rev Ed Churchman, Rev Meekon, Rev Klaus and other south England dudes. At Bowlplex Center. Contact Rev. Ed for more details. (See forum topic)
Gunwharf Quays, Portsmouth, England
Party at Dude Vinci's Bungalow. Oat Sodas, Caucasians, and pizza will be served and a Wii Sports Resort Bowling Tourney will be held. Contact Jesse for more details.
Moscow, Idaho