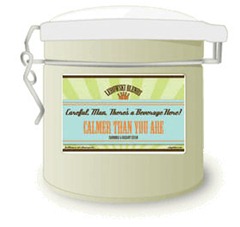 While the Dude is famous for drinking white russians and oat sodas and also enjoys his coffee from time to time, we think he's probably be a fan of tea. Some kind of eastern thing? You betcha.
We just heard from a tea master who came up with some far out tea blends inspired by The Big Lebowski, made specially to honor The Day of the Dude. This lady, she calls herself Eleanor Justice (which may or may not be the handle her lovin' parents gave her), is an avowed Dudeist and tea aficionado.
The stupefying array of beverages includes:
Nice Marmot
Eight Year Olds, Dude
Over The Line!
Calmer Than You Are
You See What Happens, Larry?
El Duderino
The Big Lebowski
Blow On Them
I'm Here To Fix The Cable
Natural, Zesty Enterprise
Gutterballs
As she puts it, now even designated drivers can take part in the Dudely drinking games! We noticed that the tea supplier/site she uses, adagio.com makes it easy for anyone to blend their own teas without even tasting them first, but Eleanor assures us that she has personally crafted and tested each blend herself. She isn't trying to scam anyone here, man! She really enjoys her tea and hopes everyone will takes comfort in it as well. As far as we can tell she doesn't make any bones or clams doing this, just earns credits toward free tea.